SELL PRINTING ONLINE WITH WEB-2-PRINT
Clients want to do more things self-service. We think the best service is complemented by self-service. Let clients do things for themselves when the studio is closed. That might include personalising stationery and marketing material online. Multi-site businesses and franchise networks also want to control and protect their brand. More and more customers want to place print orders over the weekend. Nettl helps every type of client to self-serve and the system takes care of everything from order processing to template creation to fonts to payment.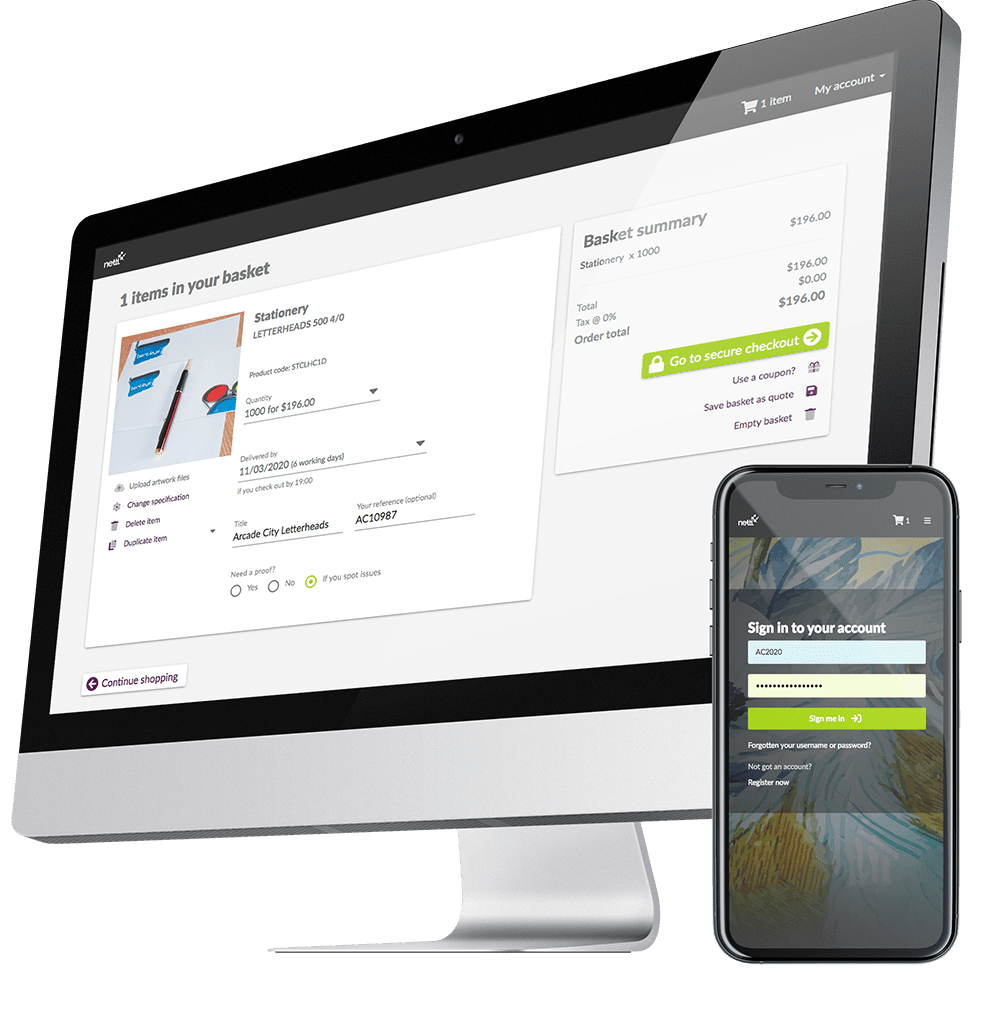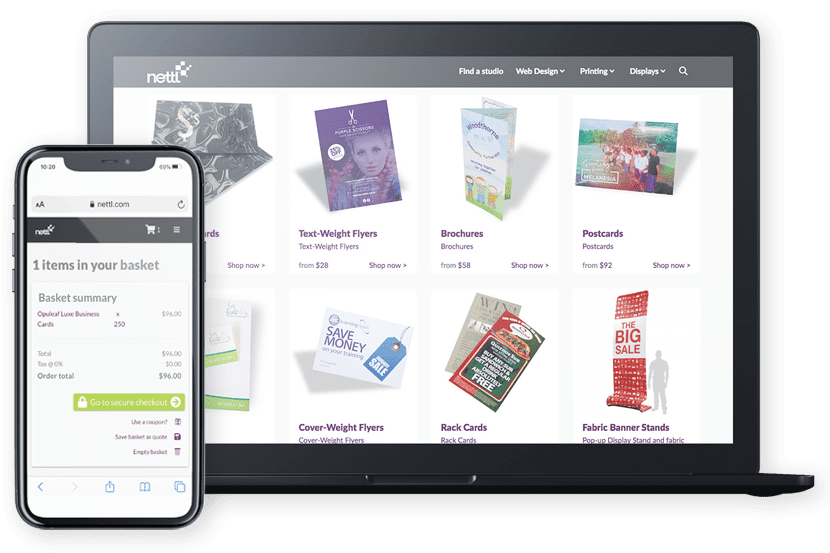 Sell print online
Add the Nettl system's shop bundle to create a fully-featured, self branded, web shop for your business. Clients can register, upload their artwork or design from a template. Or. Nettl franchisees get listed on Nettl.com's integrated e-commerce site with a bespoke client account area and self-service toolkit.
The site works nicely on mobiles and tablets, so salespeople can give out prices on the go and clients can place orders at a time that suits them. The choice is yours.
everything you need to get started
SHOPPING CART
Sell personalised products like flyers and business cards, take payments online and process orders efficiently.
DESIGNER TEMPLATES
There are over 80,000 pre-made designer templates plugged in. Clients can start from a beautifully created design for a minimal fee.
STOCK PHOTOS
Your clients and teams can personalise their designs with access to over 80 million stock photos, direct from the Depositphotos library.
FILE UPLOADS
Clients can upload their designs and the Nettl system will check them, proof them, and collect payments for you.
Supply Chain
We've populated thousands of high quality, low cost print solutions, directly into the system. Or take the OpenSource bundle to add your own products. 
CUSTOMISE
Choose a theme, customize the colours, logo and branding. Even create your own pages, and fill with your own content to personalize the client experience. 
BUILD PRIVATE CLIENT SITES
As businesses grow, controlling their brand gets trickier. Adding the Client Portal bundle means you can end brand dismay, with private microsites. They're branded with a client's logo and color scheme and can be populated with personalised online editable templates, with style and approval rules built-in. The same self-service tools as Nettl.com, with an extra management layer on top.
build bespoke private sites easily
MULTI-SITE CLIENTS
Upload branded designs and let users personalise, then order. The system is designed to work the way franchise networks need to and is perfect for multi-user enterprises. 
BRANDED MICROSITES
Create private branded microsite portals using your client's brand colours, style and logo in just a few minutes. Populate with their frequent orders and allow them to self-serve. 
BUILD TEMPLATES
Give clients brand control and allow them to self edit. It takes just 10 minutes to turn a leaflet or brochure into an online editable template using the Nettl system's platform.
SET YOUR OWN PRICING
Set your own pricing globally, or set specific rates for each individual customer or account. Create vouchers and incentives too, directly from the system.
SET THE RULES
Control who can order what, set which templates they can see, or build a bespoke approval process to allow control across multiple sites and staff members. 
Build templates within Indesign
Utilise our advanced template editing system. You don't need to be a programmer to turn client stationery and marketing into online editable templates. No expensive software. Frustration-free.
You just need Adobe InDesign and know about layers, swatches and paragraph styles. That's it. Our template builder does the hard work for you. With properly licenced fonts from Monotype, Linotype, ITC and Google libraries. Display them, linked to print products in private client portals or public webshops.