Marketing campaigns to help you sell
As  a Nettl Partner you'll have access to a full suite of marketing to help you sell. Online and offline. E-shots and brochures. Instore, direct mail, social media campaigns, blogs, landing pages and full listing on Nettl.com.
All in a friendly voice, saying new stuff each time. Fresh content, updated regularly. With a mix of helpful advice and promotions. You know how long it takes to create this stuff. Writing elegant copy takes time. Beautiful photography is an art. Get a whole library of marketing collateral at your fingertips to help you sell more.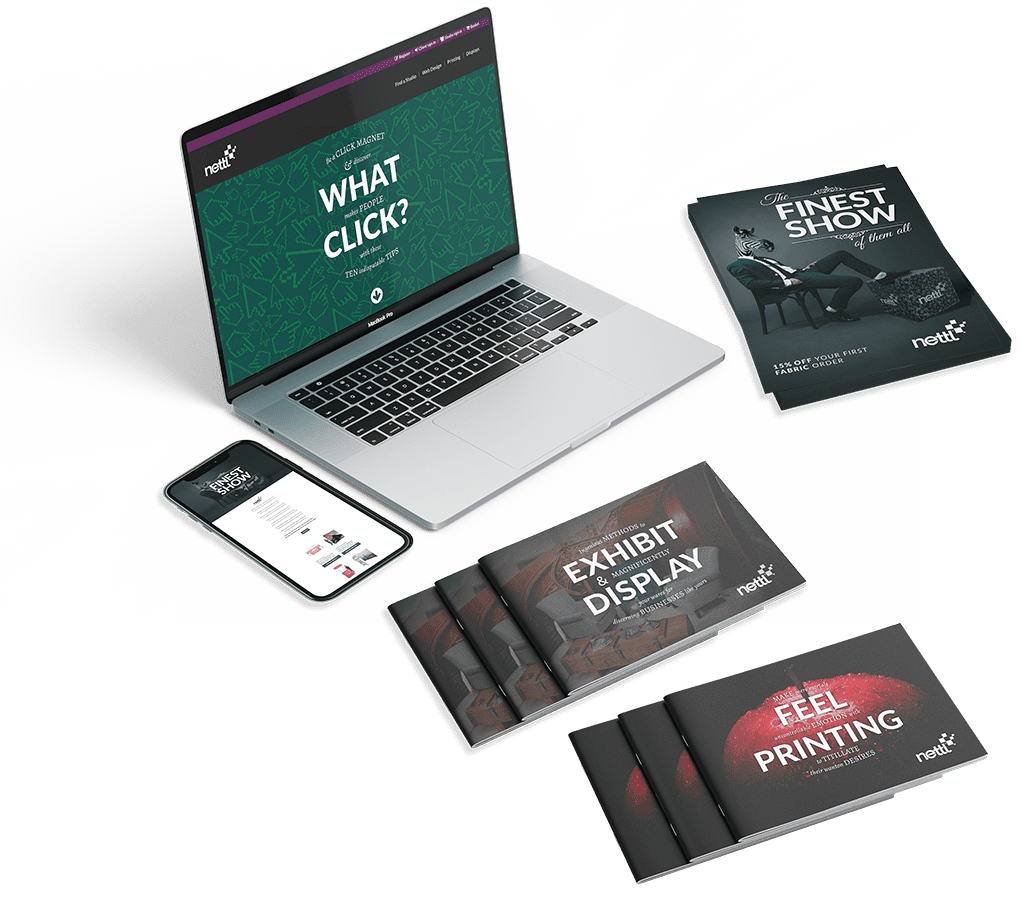 Every business needs to add new customers just to stand still. Nettl helps you keep in touch with existing customers and market to prospects, so you can spend time nurturing future relationships. The central marketing team at Nettl regularly devise new concepts, printed collateral, e-shots, social media content and landing pages to keep your marketing toolkit topped up.
print campaigns
Utilise our centrally conceived print campaigns to help keep in regular contact with your clients.
social media
Share content from the Nettl social media pages to keep your customers up to date with the latest news and special offers.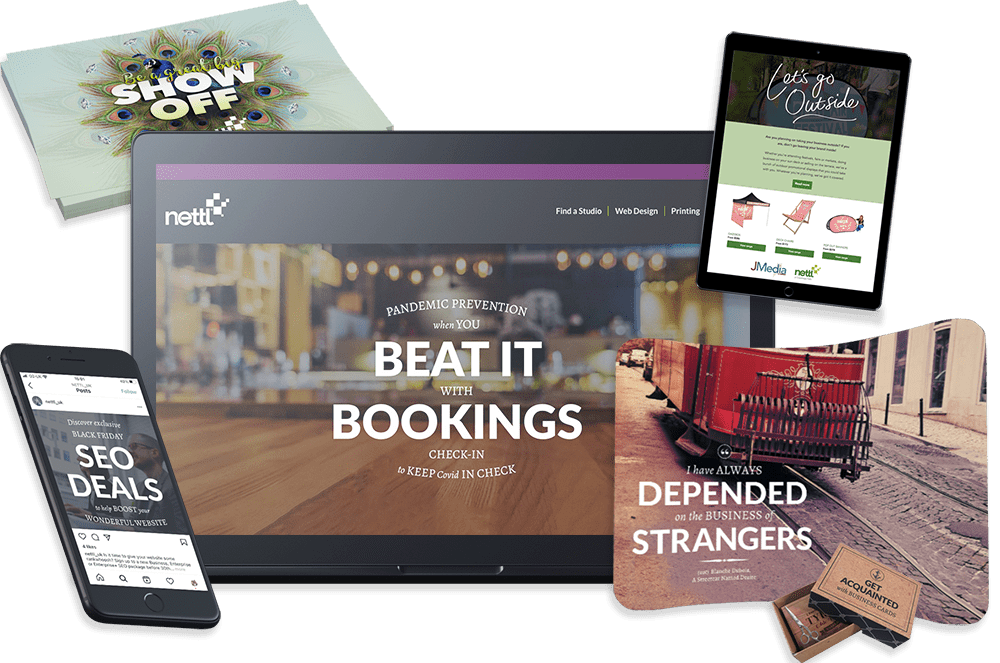 digital campaigns
Opt-in to have dual branded emails sent automatically to your customers. Use pre-designed templates or create your own and send directly from the Nettl System. We'll show you open, bounce and click rates and automatically manage unsubscribes.
POS
Display Nettl styled product samples, signage and fabric displays to enhance the customer experience and reinforce brand identity.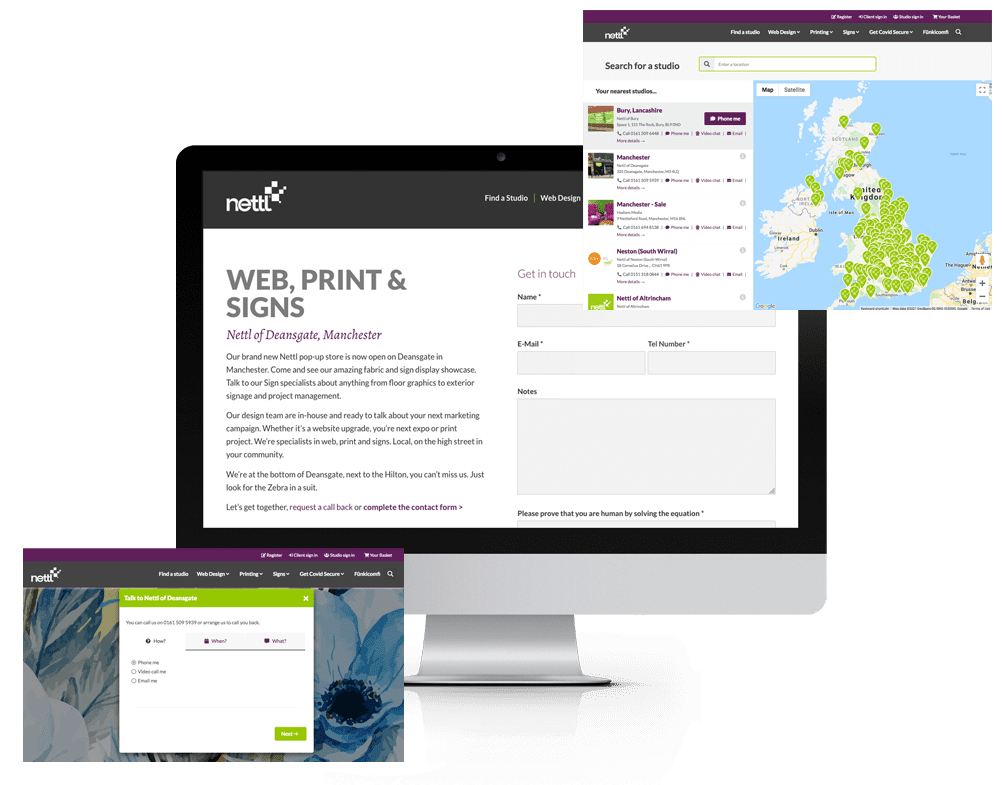 Full listing on nettl.com
Nettl Partners get their business listed on the nettl.com website. Customers can view studio specific landing pages, request callbacks by video or telephone call, enquire via contact form and place orders online that go direct to you.
 Studio Landing Page
Use the Nettl marketing library and automated campaigns to drive traffic to your studio landing page. Promote your new Nettl service offering and product range to generate enquiries.
Get Call Back
Your clients can send call back requests online, straight to your inbox. Asking for a video chat or call back making it easy for clients to get in touch, so you never miss an opportunity.
online orders
Use the full ecommerce functionality of Nettl.com as your own web shop. Ready made products and services for your clients to buy at the click of a button.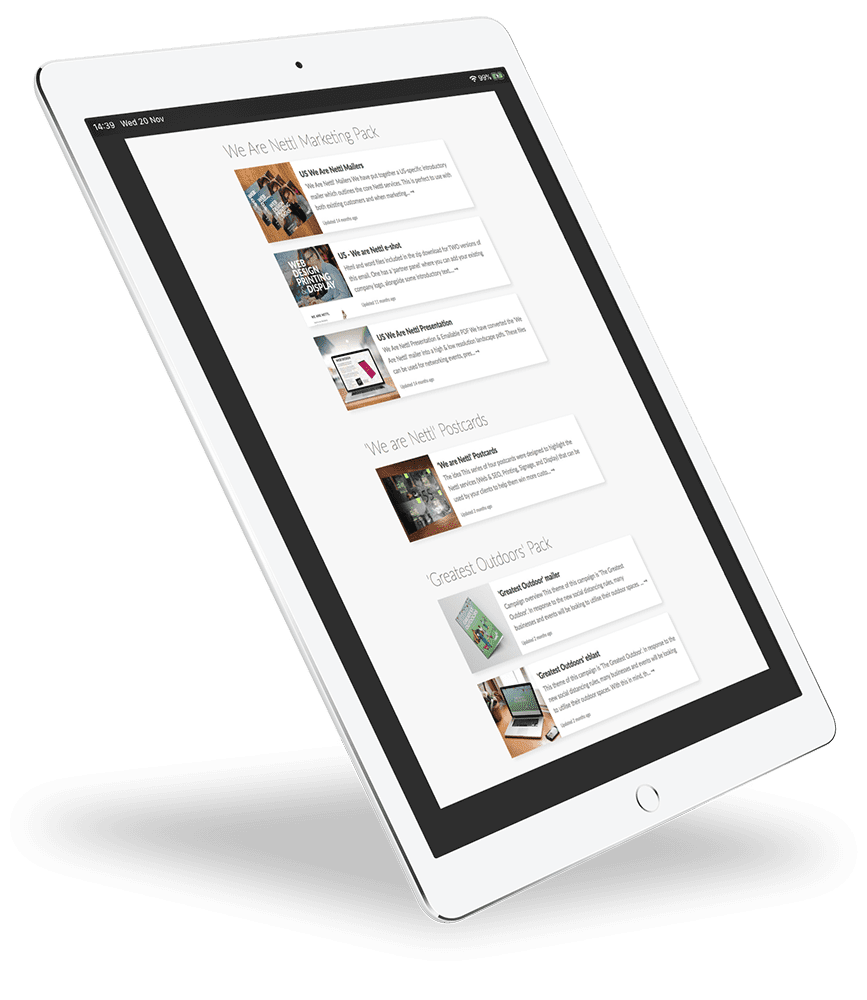 PROVEN MARKETING LIBRARY
Nettl Partners get access to our unique online Marketing Archive. It's a library of ready-made ad campaigns and digital content. All professionally copy-written, in the same charming tone-of voice. With distinctive imagery and striking photography.
 Printed assets
Campaigns include printed direct mail pieces like mailers, postcards and persuasive brochures. Point-of sale from life-size zebras to flyer dump bins and eye-catching posters.
digital assets
Campaign messages are also delivered via digital collateral, emails, animations and videos. Access is granted to the source code too, for those who want to tinker. 
SOCIAL MEDIA
Back up your marketing reach using Nettl's pre-made social media assets, videos, and animations. Get your message infront of your clients in every possible way.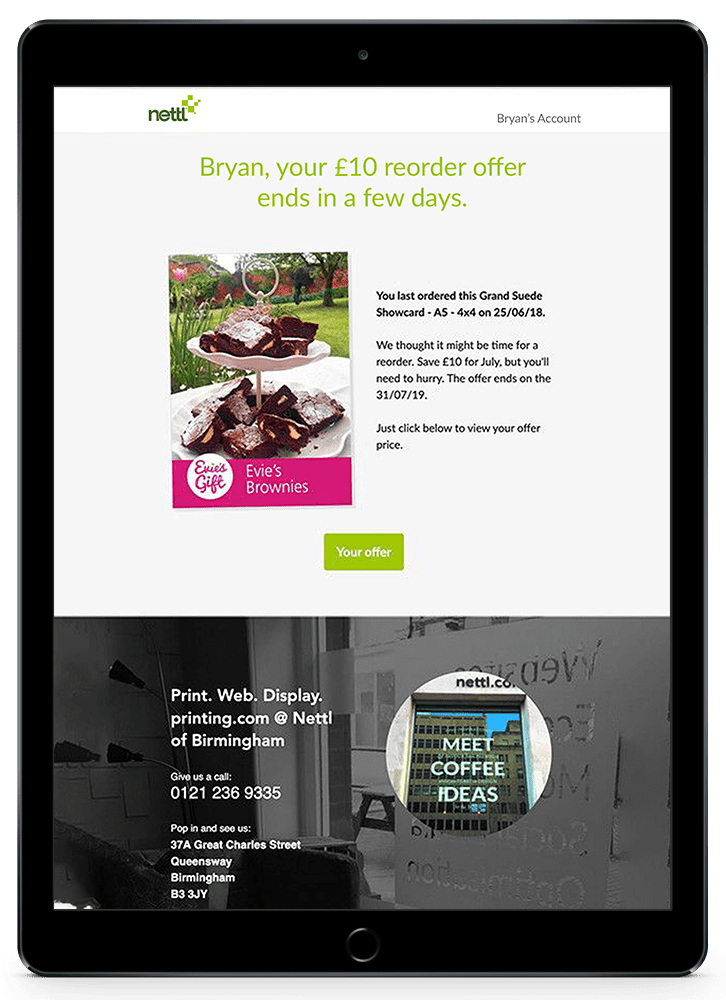 MARKETING THAT HAPPENS BY ITSELF
Do you keep in touch with every client, every month? You probably spend all your time creating marketing for clients. And before you know it, a new month has passed and you've not got round to marketing yourself. Opt in, and we'll send mailers and eshots to your clients on your behalf so you can continue putting your customers first.

MARKETING CAMPAIGNS
We plan and execute regular multi-channel marketing campaigns on behalf of Nettl franchises. New messages and fresh content every time.
AUTOEMAIL
Choose your targets, and the Nettl system will send your clients monthly email campaigns. All beautifully designed for you. Or use the temapltes to personalize and send yourself, directly from the Nettl System. 
AUTOMAIL
Set your preferences once, and the Nettl system will send printed mailers to your clients on your behalf. Or, download the InDesign files, personalize, print, and send yourself.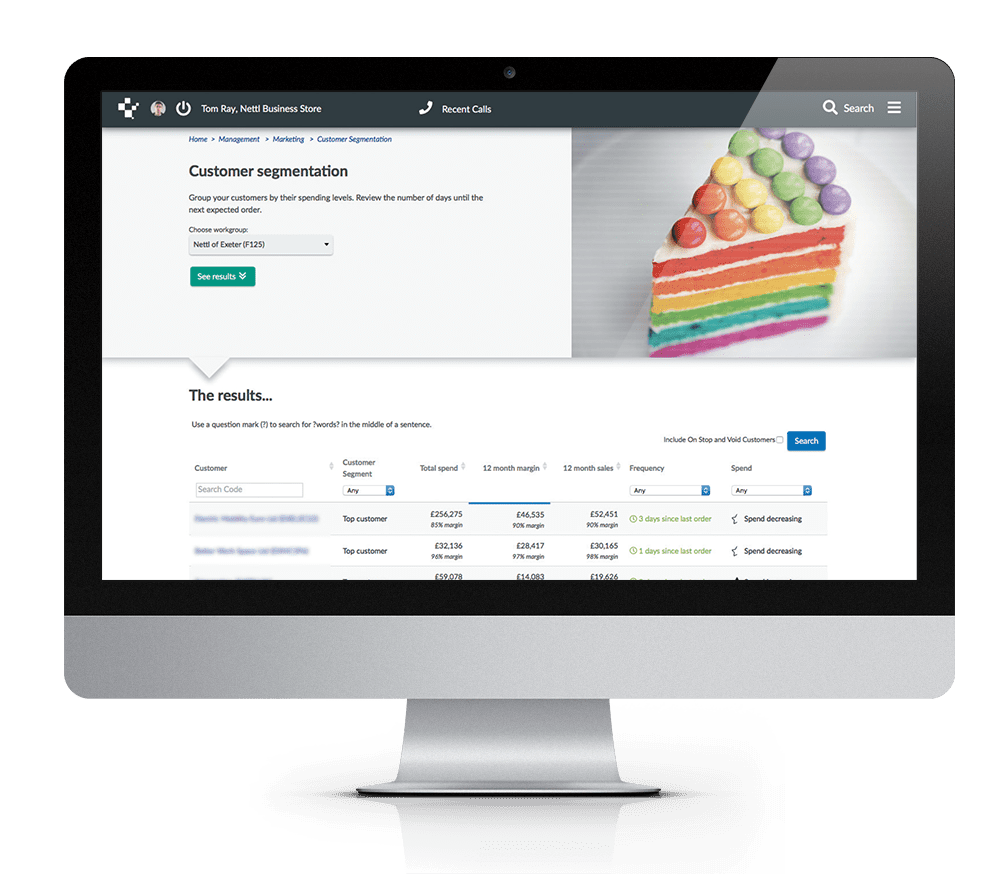 MARKETING TRENDS AND REPORTING
The Nettl System monitors spending and buying patterns. It logs client order frequency, how recently they last ordered and their profitability. Their Recency, Frequency and Margin or rfm. Clients are profiled, racked and stacked, in real-time. They're segmented into Top, Great, Good and Emerging, depending on how profitable their relationship is.
REPORTS
There's a bank of ready-made reports in the Nettl system's marketing and analytics library. See who bought what, what they paid and when they are due to place a reorder.
TRENDS
See spending trends at a glance. If a client falls  outside their usual buying routine the system knows and will let you know, so you can talk with your client and find out why.

TELEPATH
When clients call, 'Active Call'  lights up in the Nettl system. One click, and you can see who the client is, their order history, and be ready to talk about jobs in progress, their website or a query.
Nettl is co-branded with your business – which means you keep your existing brand. And you co-brand Nettl with it.
As a Nettl partner, you'll be known as "Nettl of your neighbourhood." Once you're certified, you'll be listed on Nettl.com in our store directory. That might encourage prospective clients to visit you, so you'll need to have some Nettl branding on your premises. How much you choose is up to you. If you'd like to fit-out your entire store in Nettl style, our brand manual can help with color schemes and decor suggestions.
The Nettl brand and collateral is exclusively for Nettl partners. We don't allow our marketing to be white-labelled.