Integrate your production
Nettl's System is hooked into an international supply chain, that means you can extend the range you offer clients, effortlessly. For your own production, use the same systems we use in our state-of-the-art manufacturing hubs to manage your own workflow and production process.
Easily add your own product range to sell online, integrated with your own production.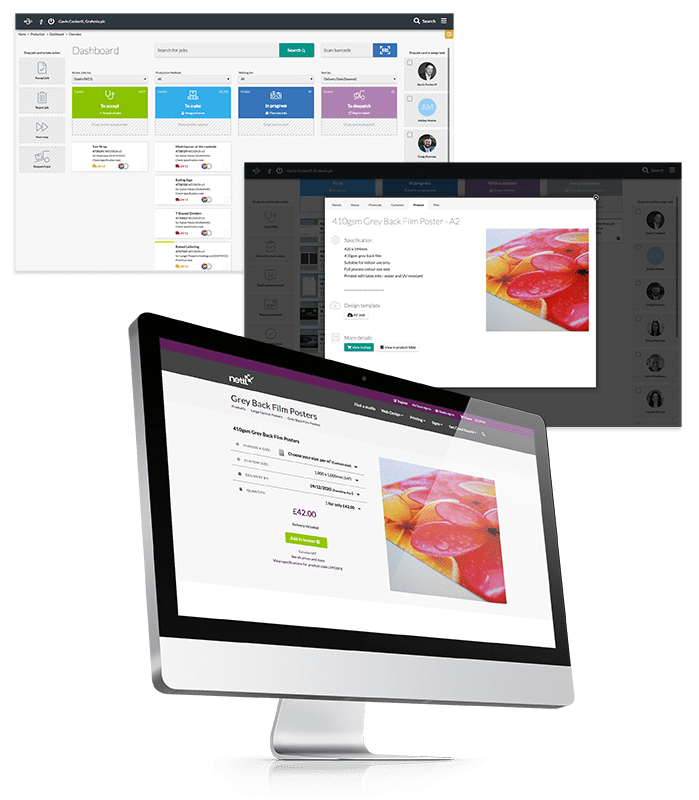 client. studio. production
Nettl system users have access to a built-in supply chain, but can also add their own product range. Making it easy to link the client's online experience through to your studio to manage and seamlessly push into your production flow.
Build Products
Build your own products in the Nettl system, and make them available for your team to order or display them online for clients.
PUBLISH ONLINE
Use the integrated supply chain and add your own product range. Publish these on your Nettl portal for clients to order, linked into the Nettl System. Even build a new website of your own.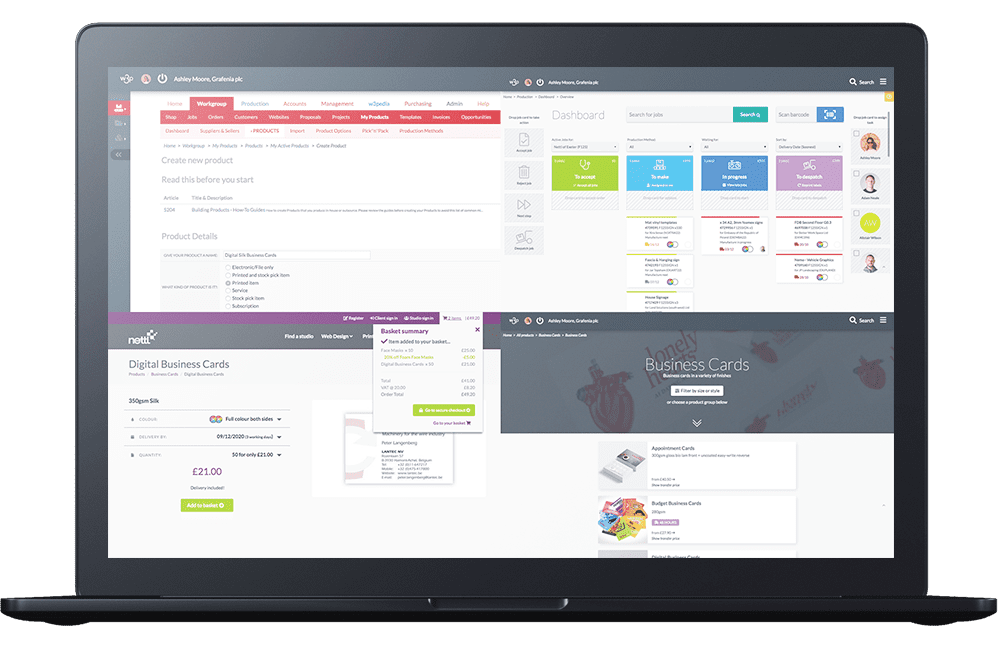 Production dashboard
Manage orders through your production flow with Nett's Production Dashboard. It's a way of segregating work, so different departments can filter tasks they need to do. It works beautifully on tablets too.
Integrated Workflow
Studio teams have full visibility of orders in real-time. They can access products, price points, artwork, and create quotes or orders. All at the waft of a mouse.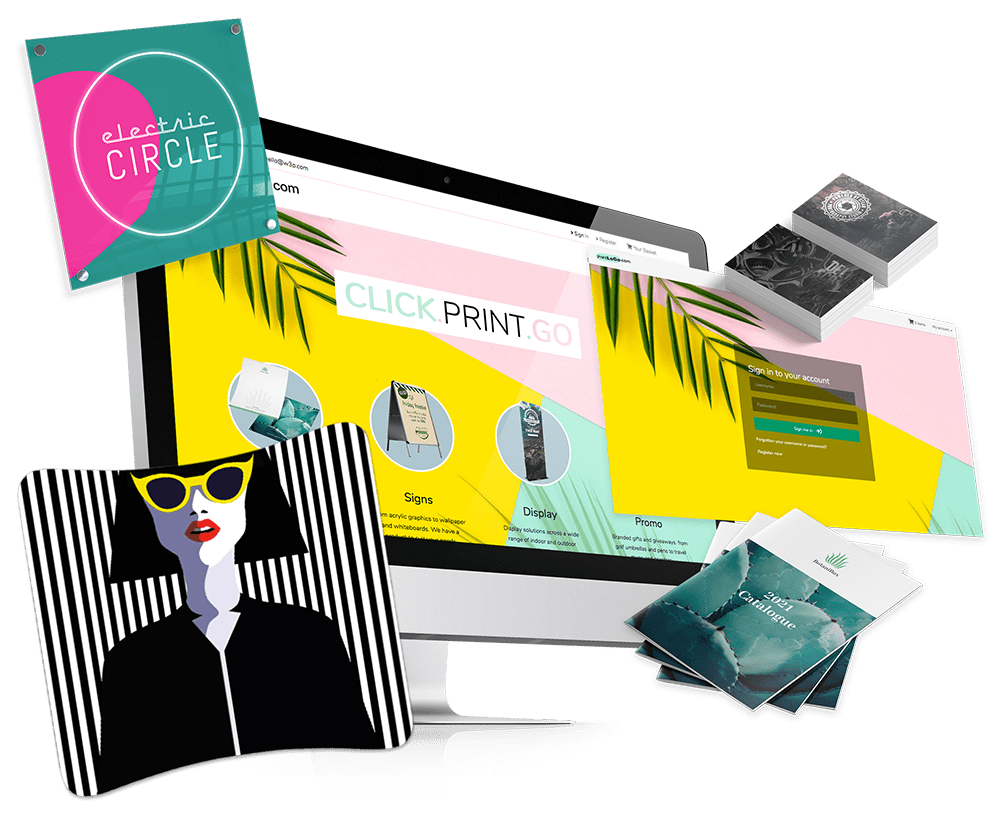 READY MADE SUPPLY CHAIN
Even if you have your own production department, there'll be things you need to outsource from time-to-time. The Nettl system is hooked into our supply chain and users get factory direct, wholesale pricing. The range covers litho, digital and large format printing. On fabric, vinyls, paper and boards. From business cards to folders. Signage, exhibitions and point-of-sale. Add to your own range and sell more to your clients with Nettl.
Supply Chain
Nettl studios are hooked into an international supply chain, to extend their range, effortlessly. From booklets to brochures, from business cards to exhibition displays, all at trade prices.
Product Bible
Home to our neatly arranged product categories. All with fast, fixed turnarounds. We've set recommended retail prices, so you can check your margin and quote instantly. Turn quotes into orders with a click.
Personal Shopper
Can't find what you want? Just tell our Personal Shopper what you're looking for. Maybe share a diagram, link or photo. Then request a callback or get emailed help from a specialist. They'll even create the order for you.
Production Dashboard
How do you manage your workflow today? Nettl system users get access to our Production Dashboard. It's a kanban card-based system. First, there's orders and files To Accept. Then jobs ready To Make. When an operator starts a job, the card moves to In Progress, adorned with their smiling face. When all steps are complete, it'll move To Despatch, ready to print shipping labels.
The Production Dashboard is perfect for touch devices, like iPads or Amazon Fire tablets. Working live means the team see what needs to be done, in real time. All the information they need is just a click away.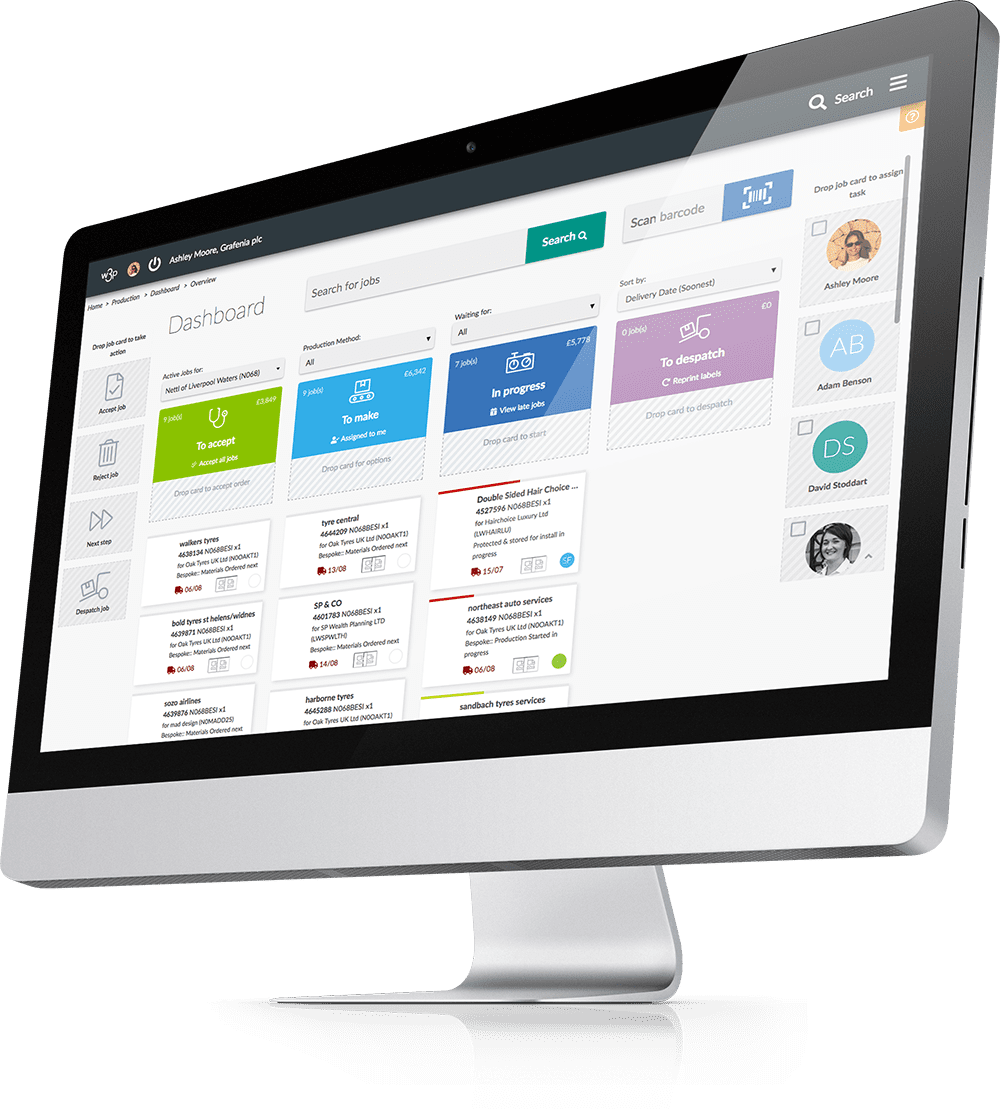 Manage your own production
Production steps
Create your own production steps relevant to your department Easily move orders through production until despatched.
Mobile friendly
Utilize the Production Dashboard on mobile devices on your production floor to improve efficiency and visibility.
Email notifications
Send email notifications to production when a new order is sent, and to clients and studio teams once an order has been produced and dispatched